(page 2 of 3)



Mom's in the garage, in front of the open car trunk. I see carnations in the darkness of the trunk like crumpled paper. More pale carnations in her arms. It hurts to look.

"I'm out of here, I'm off to church," says Mom, her eyes wide open like a child's eyes. "I promised, I said I'd be there. You know you should call first. I called you and your voicemail box's full—"

The translucent threads in the bare electric bulb under the ceiling tremble. I feel them in my nerves.

"Can you lend me forty bucks?" I say, fast.

Mom blinks—I know that blink.

"Please, Mom," I say, my voice whiny and nasal.

"Sorry," she says and looks at her carnations.

"I promise, I—"

"I have to go," she says, and I see a cold little tear on her faded cheek. It glints.

"Can you at least take Maddy with you, I have a flu, I need to rest," I say, stepping closer.

"Sorry," she says, stepping back. She falls in the car and shuts the door. A pink carnation slips from her lap and gets smashed in the door jam, sticking out like lace covered in blood.

"Can I just watch TV?" I ask through the half-open window.
She looks at me, blinks, says "Yes, sure," forces herself to add, "love," and backs out of the garage. Wings grow.

I go inside, put Maddy on the red leather couch in the living room. She just looks at me. Like a bird in a storm she looks, little and grey, huddled in her brown blanket, quiet and so small. I'll get a fix, and I'll quit next week. We'll go to a zoo, or something. Next week.

Maddy smiles and points at the Christmas tree in the corner. It flickers. Mom hasn't finish decorating it. Cardboard boxes, old cotton wool, silver trains, and foil stars are scattered around the floor. A Christmas Angel looks at me from a yellowed newspaper, eyes transparent and sad. Its soaring glass wings scare me.

"TV," I say, my teeth shattering. I press the buttons on the remote. The bright pink and blue of the cartoons and shrill voices pierce my brain. The sand scorches, the wings grow, the blades burn.

I stumble to the bedroom. The dresser. The jewelry box. The glint of a broken lock. Mother-of-pearl shining smooth, just like when I was little. It's empty, except for a pair of surgical tweezers.

"Bitch!" I whisper. She hid it. I open the drawers, one by one. There, in her worn, silky, miserable underwear. The peacock brooch with a ruby eye. Torn necklace with a locket, Dad's picture. And the yellow gleam of her engagement ring. The dim sparkle of the diamond next to a fat, olive-greenish roll of dollar bills, a twisted rubber band around it. Nausea covers me like a dirty plastic bag.



Heroin Wings continues...
1 Likes
|
0 Comments
|
Author
Bath Day:
Bath Day by Donald O'Donovan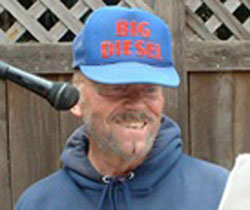 Bath Day
by Donald O'Donovan