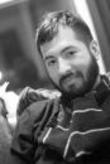 arrow_drop_down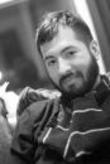 The Party
arrow_drop_down
More work by Luis Rivas:
"You sure you want to?" Mary asks.
"Yea," Albert says. "I mean, I guess so. I thought I was. I don't know."

"It's not too late; we don't have to. We can just go home, watch a movie, drink, smoke," she says, grabbing his hand, a sincere look of understanding in her eyes.

Both of Albert's hands are still on the steering wheel. Mary sits in the passenger seat, both hands clamped down on his right hand. The radio is off but the constant sound of traffic coming off the nearby 101 Hollywood Freeway stops it from being too quiet. She takes both hands off of his, reaches down, picks up her purse, opens it and pulls out two cigarettes from the pack, has a second thought, hesitates, and puts one back.

"Cigarette?" she asks.

"Ok."

"We'll share."

"That's fitting, dear."

She lets out an obligatory small laugh, knowing her role as the encouraging girlfriend, knowing that she has no choice; she has to acknowledge Albert's wit to show that she's on the same level as he is in the moment, that she gets the joke, that the entire situation, them in the car, just about to go up to this place, that this is all funny, really, haha, goddamn.

"Well, I mean, it's getting kinda late; it's now or never. I'm fine with either," she says, really hoping, surprisingly to her, that he decides to go ahead with it because, come on, we're young, healthy, attractive; this will be something different, something exciting and fun.

Albert thinks about it. He's here. She's the one that persuaded him to drive out and to just think it over; if he decided at the last minute to back out that that would be fine, no problem, but at least think about it. And now. And now here we are: to go, or not to go. The possibilities were good and at the same time horrible. He was getting upset at his over-thinking it. Over-thinking was a big flaw in his character. Fuck it, we're young, healthy, attractive; this will be something different, something exciting and fun. Deep down inside he had a feeling that this is truly what she wanted, so why not?

"All right."

"Ok, babe," she says.

"I love you," he says, instantly embarrassed, instantly regretting it, thinking it not being the proper time in saying it.


...read more

(2/9)
"I love you too, babe. Let's go," she says, getting out of the car first, taking the last hit of the cigarette, throwing it on the ground, smothering it with her high heel, anxious and growing more anxious to go upstairs to the party, the couples party.

They are buzzed into a nice, rich Hollywood apartment complex right above the boulevard but not technically in the hills, just at the base of the rising property crest. Lily, the hostess of the party, opens the door, says hi and hugs Albert and Mary, making sure to spend an equal amount of time hugging them both. Equal dispersion of affection is the theme of the evening.

There's a table in the living room with a red cloth over it covered with vibrators, pocket rockets, vibrating bullets and eggs, dildos, double-sided dildos, butt plugs, cock rings, Viagra, condoms, cocaine, speed, weed, ecstasy, special-k, lubricants, flavored lubricants, whip cream, massage oil, chocolate body paint, hand cuffs, nipple clamps, rope, whips, blindfolds, masks, every type of sex toy and drug ever thought up by mankind thus far. Albert and Mary both acknowledge the table at the same time. They look at each other. There's an equal amount of men and women; the ratio's dead on. The planning was perfect.

"Feel free to mingle, guys. Ah, the table! Yea, well, Kyle over there works in a sex shop so we get a very nice discount. Feel free to grab whatever. Have fun!"

"Thanks," Albert says, not knowing what else to say.

Mary goes away. Albert is repressing the natural urge of acidic jealousy rising up in his stomach. Marie comes back moments later with two glasses of red wine.

"Cheers," she says, wide-eyed and very excitingly.

"Cheers," he says, trying very hard not to think, hoping the dark wine has a high enough alcohol content.

They look around, scanning the room, looking at all the couples, all the men and women talking, genuinely looking like they're enjoying each other's company. And why not? We're all mature adults; we're all here for the same reason; we're all healthy, young, attractive and sexually adventurous. And that's why we're here. And this is all normal for good-looking mid-twenty-year-olds, right?

"Weird, isn't it?" she asks Albert.

"I suppose."

"Well, I guess we should, ya know, mingle," she says, almost squinting, thinking Albert's not going to like this.


...read more

(3/9)
"Yea, ok. Just, uh, I don't know, text me or something when you get bored or, uh, whatever."

Mary walks off into the direction of a man and two women talking, all beautiful, in great shape, with sparkling cocaine eyes, which welcome her immediately.



...read more

(4/9)
Albert and Mary have been seeing each other for a little over a year. They began as a drunken one-night hook-up that expanded over to a weekly thing, and then a daily thing, and in between sex they came up for air, talked and went out for dinner: a relationship began. They met each other's parents, their friends, their pets. It was only normal for things to settle, and for their sex life to calm down. It was a mutual thing with no resentment. Albert would come over after work and, - whereas before they would pounce on each other, fuck on the living room floor, never making it to bed, - now he would simply come over, kiss her on the cheek, ask how work was, fine, fine, ok, you know, same old shit, and promptly go to the fridge, get a beer and sit down in front of the TV with one of her cats. And Mary didn't mind. She'd read or steal the TV away to play video games but Albert never minded; he'd just stare at the screen, watching the characters do things that caused points to ring and accumulate. Then one day Marie decided to be impulsive and brought home a porno movie, randomly getting whatever the clerk at the video store recommended, Belladonna's Man Handled II, to spice things up. It worked. Albert kept his eyes on the TV the whole time and blindfolded Mary, watching the guy viciously hammer his dick into a tiny girl's well-lubed asshole. Mary couldn't remember the last time sex had been that great. That had opened up a door. They started making frequent trips to the sex shops, picking up random vibrators, oils, feathers, restraints, etc. Mary was pleased and felt their love had gone beyond what she had thought a while back was its peak. However, Albert began uncovering new fetishes. It began with simple rope restraint which led to choking, domination, slapping and more aggressive fixations. And then came the role playing. He'd be a jealous husband coming home from work early catching his wife using a vibrator on herself, or he'd be some stranger breaking into her - the helpless schoolgirl or teacher (depending on his mood) - apartment and tying her up; Mary was always the rape victim and he the rapist. It excited her in the beginning but a few times it had gotten out of hand. He was choking her once after she had tried repeatedly to tell Albert that it was getting too rough, to stop, please but he thought she was still in character and choked her unconscious and cummed in her mouth so that when she regained consciousness she choked a little, threw up and panicked in not remembering where she was, what she was doing, what was being done to her.


...read more

(5/9)
Albert began going online, feeding his new fetishes, exploring everything out there that could get his dick hard: bondage, pissing, enemas, humiliation, group sex, etc. He found out about swingers and their parties. It sounded good. He got a number, called, exchanged pictures via e-mail, was given an address and decided to tell Mary.

"A swinger's party?"

"Yea, well, they called it a couple's party with other people. It's pretty common."

"I don't know."

"Imagine it: you with someone else, a girl, two, whatever. I'm completely fine with it."

"I don't know." It appealed to her, and they both knew she was bi sexual – something most women are but rarely admit.

"It's not like it's scummy, cheating; I'll see it all happen; we'd use them – for us, for our enjoyment. They'll be like sex toys. Think of it that way," he said. "Like objects."

"I'm not saying yes but I'm not saying no."

"Just think about it."

"Ok."

But Albert had it in his head now and it was building momentum. Here was something new; different people, strangers, to try different things out on, to let go completely, to be free and perverted to his extent. He was so turned on by the idea of it once that on his way home from work, he had found an alley and pulled over to jack off. His desires were peaking. He really wanted Mary to agree to go with him to the party. And being the good girlfriend that she knew she had to be, she finally agreed. Under one condition: that he promise not to get jealous and upset.





Albert looks at his phone, checking to see if Mary sent a text. A lady walks up to him, asks how he's doing, her breath smelling of wine.

"My name's Rebecca," she says, extending her soft, limp hand and shaking his.

"Albert. Nice to meet you."

"Having fun, Albert?"

"Sure, lots of nice people."

"Hah, yea well, Lily, she's nice; she has nice friends."

"So far everyone seems nice."

"Is this your first time at a, at one of Lily's little get-togethers?

"Yea."

"Weird, huh?" she asks.

"I suppose."


...read more

(6/9)
"Who'd you come with, if you don't me asking?"

"My girlfr--, my friend," he says, catching himself, unsure of what exactly to say, I mean, what's the point of lying? This isn't cheating, well, it is but it isn't.

"She's mingling right now," he adds.

"I see."

She takes a drink from her glass, stares at Albert, his eyes, his lips, her eyesight falling down to his chest and then it quickly snaps back up and she says, "would you like to mingle, Albert?"

He takes a long gulp from his glass, clears his throat and says, "Sure."

Rebecca grabs him by the arm, gently, like an adoring and devoted girlfriend and leads him into a hallway. They pass several groups of men and women talking, drinking. Albert sees Mary talking with some women. Mary's eyes get wide. Albert gives her a reassuring nod as he is led into a dark room. Mary forces herself not to stare, caught off guard, surprised at her own jealousy. She takes a drink, one of the girls offers her a line of coke, she refuses at first.

"C'mon, honey! It's good for you. Vitamin C!"

"No, no, I shouldn't, I mean, I don't, no, no, thank you though!" Mary says, tempted.

"Just one, Mary, just one," the girl says, rubbing Mary's arm lightly, slowly up and down with her fingers.

"Oh, all right."

Mary bends down toward the compact mirror and sniffs a bump straight into her nostril, the pain instant, the euphoria exploding inside the front of her brain like an orgasm. She exhales with relief.
"I think she likes it," one of the girls says to the group. They laugh lightly. Mary smiles, forgetting Albert and the whore bitch at his side, thinking of only feeling, of only every fiber being alert with excitement, and not thinking about that bitch at his side, that hot, slender, incredibly fuckable whore bitch cunt at his side.

One of the girls leans over, slowly, closes her eyes, and kisses Mary on her cocaine-numbed lips, gently prying her mouth open, sticking her soft, warm tongue in, slowly flicking it in and out of Mary's wanting mouth.


...read more

(7/9)
Rebecca closes the door. Albert sits down on the bed. Rebecca smiles. She walks over to him, puts her knee in between his legs, teasingly rubbing his dick. She pushes him down onto the bed so that she's on top, her ass directly on his dick, Albert feeling the cheeks of her ass cup his dick perfectly. She begins to rock up and down, masturbating him with her body. Her hair falls down on to his face. Albert inhales the scent of cigarettes and fruity conditioner. She starts breathing harder, moving faster. Albert becomes erected and pushes her off saying, "No, I can't."

Rebecca isn't too surprised. A grin grows on her face. "That's fine, hun. Go to your girl, before someone else does." Albert opens up the door and walks out.

He makes his way through all the couples, both men and women giving him inviting looks, everyone hopped up on coke or ecstasy. The table with all the drugs and sex toys is barer now, the red cloth underneath more noticeable. Only the massage oils and some of the weed are left untouched. Most of the rooms have their doors closed. Some couples are fucking with the doors open, some are fucking in the middle of the living room, on the couch, against the wall, on the floor, most men making eye contact with each other's wives or with each other, the air saturated with the smell of cigarettes, pot and sweaty genitals.


...read more

(8/9)
Mary's lying flat on her back, her legs spread apart, blindfolded, each arm tied to the headboard. There's a girl bent down in between Mary's parted legs disappearing her fingers inside her vagina. There's a man on top of her fucking her face with his cock, her spit spilling out from the sides of her mouth. She is moaning with pleasure in between the gagging. When Albert opens the door to the room, the man and women both look up, their bodies still working away on Mary but there eyes starring on to the newcomer. Albert signals them both to be quiet. He leans down between Mary's legs, whispers to the girl that he'll be quick. She gives her up and goes sit down on a chair to watch and masturbate. The man is still fucking her face. Albert is angry and turned on. He spits on her cunt, slides in a finger, wiggling it around, pretending he's a stranger, fucking this girl for the very first time, once the courage builds he shoves in another finger, feeling the tightness of her, the slight pressure on his fingers, then he sneaks in his ring finger. He tries expanding his fingers inside her but the pressure is too strong. Mary moans louder. He slides in a pinky. All five fingers are in her now. He licks his index finger of his left hand and sticks that into her asshole, watching it pucker up like the toothless mouth of an old man. Albert closes his hand into a fist and pushes it inside her. Mary feels the pain but is turned on by its unexpectedness and wrongness, never having felt so much pressure in here like that. She moans louder. The man on top gets too excited by all this, the newcomer working away on this tied up and blindfolded girl, and cums inside her mouth. She swallows as much as she can, hungry for it, to be as scummy and dirty as possible in this moment, but most of it spills out the sides of her mouth, mixing with the puddles of spit. The man on top unties her arms from the sides of the headboard, dismounts and leaves. Albert gets up and walks out before she takes off the blindfold.

Albert is waiting by the table with the toys and drugs. Mary stops by the bathroom to wash up before meeting up with him.

"Ready?" asks Mary, feeling sore and jittery, coming down from the coke, feeling sick to her stomach, not used to mixing booze with hard drugs.

"Yea, let's go. I'm tired," says Albert.

"Hey babe?"

"Yea?"

"No more parties for a while, 'k?"

"Sure, no more parties dear."

 
...read more

(9/9)