arrow_drop_down
BOOKS: Windsock Etiquette by Zachary Fishel
arrow_drop_down
More work by Bud Smith:
THERE IS SOMETHING very appealing to me in the wild and overblown. In its own way, I'd classify Windsock Etiquette by Zachary Fishel as sprawling, but perhaps in disguise.
The poetry collection, published by Red Paint Hill Publishing, looks simple enough when viewed from above … 78 pages, 6x9 sizing, 52 pieces.
In the same way I'm drawn to a Terrance Malick film, a Miles Davis record, an ink blot Rorschach test, I'm drawn towards WindSock Etiquette, the collection of linked free-form sonnets by Zach Fishel, spanning across 52 pieces without title, without pandering or any other fence posts to hang a lantern to light one's path through the verse.
This is an adventurous work, where all poems communicate with each other in a resounding way, revealing each strand heartbeat by heartbeat. It feels like a random car ride west across America, searching for gas station station coffee, tuning the radio randomly and gathering clips of beautiful info.
In his introduction to the collection, poet John Dorsey says, "Windsock Etiquette is moonlight on the porches of Pennsylvania mill towns, but like Berrigan it wears its heart on its blue collar and yearns for simplicity in an age where everything seems so damned complicated. This book is love poems, death poems, songs of potential and broken promise - it takes urban culture back to nature and redefines Americana in a time when we're still very much searching for ourselves."
I've never heard of Berrigan, so shame on me. But that is the thing that I love about reading introduction to poetry collections, if his work is anything like Fishel's in this collection, I'm sure I'll enjoy it—into the Amazon cart The Sonnets by Ted Berrigan goes.
In Windsock Etiquette, Fishel's strains of abstract text meld with well-laid blocks of conventional storytelling, but often enough, the poems take on an overheard quality, a fragment or two of sentences caught in the passing-by of people outside a window, or nature itself muttering.
Examples: 
Sonnet 1:"There was a minute of breath caught in the chimneys", "the ragged talons of yesterday's swansong" 
Sonnet 20:"light pollution can erode an entire car in a year" 
Sonnet 32:"this is the wrong medium for explosions"
Sonnet 46:"as married folks fuck for money, she is asleep with the wasps in the smoke"
...read more

(2/3)
Sometimes the poems talk about emotions over-ripe with hometown love, such as 
Sonnet 5: "Drunk on the porch lights and picket fences"
or in
Sonnet 6: "still as a kite forgotten in a garage" 
Sonnet 10: "throwing horseshoes drunk from a sandpit with a six pack of sparks", 
Sonnet 19: "rattle your own cage until someone just thinks you're just visiting" 
Sonnet 43: "ringed maps are the tops of blouses hanging again on doorknobs"
It's easy to get swept away in the construction of Windsock Etiquette as it moves pleasantly along the path. I found myself spending some extra time on these poems, trying to decode the obscure meanings behind off kilter rhythms moving in and out of the underlying pulse of these untitled poems.
The sequence of the poems is another thing, the order they are placed seems so vastly inconsequential that it becomes an art in itself. In an email I sent to Fishel, he claimed John Cage as an influence on that, "the Indeterminacies …"  
Here's the definition of indeterminacy, in which John Cage says it "refers to the ability of a piece to be performed in substantially different ways" (Pritchett 1993, 108). I can see that alive and well in this poetry.
These are snippets of verse at play here, floating in whichever direction they choose but all seeming to recall or predict other strains within the text.  
I've been stuck on sprawling, epic, weirdo art ever since I discovered my dad's Thick As a Brick cassette tape (a 40+ minute prog rock song, written and performed in the guise of a masterpiece poem penned by a 9 year old boy, and scored by the band Jethro Tull; but not). When I refer to Windsock Etiquette as sprawling, epic, weirdo art in disguise, I mean it in the best way.
Often Windsock Etiquette work straddles disparate modes: the heart on one's sleeve sentiment, and the quiet abstraction of art damaged scribblings - at all times it's a collection high thought and great comfort.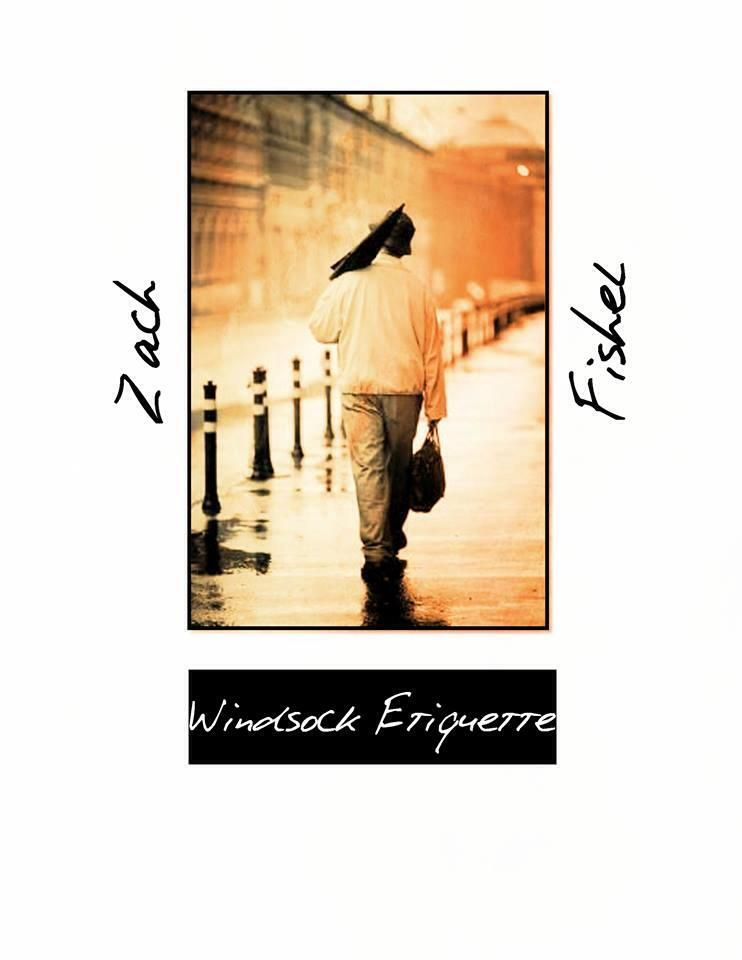 ...read more

(3/3)
Copies of Windsong Etiquette by Zachary Fishel can be obtained by sending $15 even to editor@redpainthill.com through paypal.