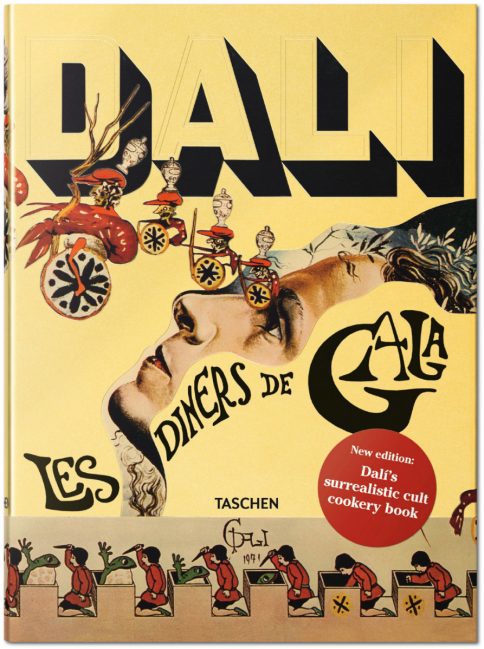 Need a few novel ideas for your Valentine Day's feast to impress your beloved's discriminating palate? Have a hedonist you'd like to wine and dine? I've got just the tome for you – a voluptuary's guide to culinary delight; replete with recipes and paintings from the man who turned lobsters into telephone receivers, pomegranates into mauling dreamtigers ravishing sleeping naked ladies, and bread into a paraphilia (explaining the use of bread in his paintings thusly: "Bread has always been one of the oldest subjects of fetishism and obsession in my work, the first and the one to which I have remained the most faithful. I painted the same subject 19 years ago. By making a very careful comparison of the two pictures, everyone can study all the history of painting right there, from the linear charm of primitivism to stereoscopic hyper-aestheticism." ).
Crack open the cover of Les Diners De Gala, Taschen's rerelease of Salvador Dali's 1973 cookbook, and the first thing you will read on the inside flap of the jacket, as you are greeted by his Basket of Bread (painted in 1945), is Dali's declaration: "At the age of six I wanted to be a cook. At seven I wanted to be Napoleon. And my ambition has been growing steadily ever since. "
Fortunately for us, six decades after his 6th birthday, he decided to indulge his inner gastronomist. This reprint features 136 recipes over 12 chapters, all specially illustrated with erotic etchings and paintings by Dalí. Food and surrealism make for scintillating pillowtalk and the food porn in this book abounds. The opulent dinner parties thrown by Salvador Dalí and his wife and muse, Gala, were the stuff of legend. I watched a snippet of one on Youtube. The hostess is dressed as a unicorn, reclining on a red velvet bed. She's bottle-feeding a lion cub. The host is wearing ear flaps, life-size paper replicas of his head serve as ear muffs. Monkeys dangle from the ballroom's coffered ceilings. It is a 1941 benefit for refugee artists and attended by Hollywood elite stars like Bob Hope. Guests are served fish plated inside satin slippers, an engraved cloche is lifted  by Bob Hope to reveal a silver platter swarming with live frogs, springing into action. 
Les Diners de Gala shares some of the delicacies that adorned the tables of these notorious gatherings. It is very much a magic carpet ride to the glamorous past that the Dalis inhabited. Not all the recipes are personal ones, some were contributed by the great chefs of the day. Taschen only just published its handsome facsimile edition in the autumn of 2016 fall and I myself received a copy of the new edition via Santa at Christmas. Named for Dali's wife, also a legendary gourmande, it must be one of the most esoteric cookbooks ever created, certainly the most esoteric one I've ever seen – a bit like Escoffier on acid. Signed copies of the original recently fetched as much as $25,000. Let me attempt to describe what you'll encounter within its covers: