arrow_drop_down

James Moody
arrow_drop_down
More work by Mark James Andrews: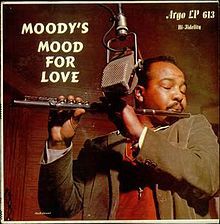 James Moody
the James Moody swing was a hard bopping pendulum
a triple threat to & fro on tenor, alto & flute
on an epic arc from the US Air Force Band
to pumping legato rhythm
with Dizzy Gillespie
to crash in a New Jersey institution
& emerge on Last Train from Overbrook
a recording with a 14 piece band of rollicking tranquility
plowing & cultivating a new music garden of adventure.
but to get into the Moody
the history axis spins to 1949 in Paris, France
with JM working the Club St. Germain
when an offer was made to journey
to Stockholm to play a club date & record.
in the studio
Moody noticed the Swedish saxman, Lars Guillin
had a beat up & down alto instrument
lying lonesome in the corner
on the floor.
it was strictly a tenor date.
the producer needed one more tune
& nothing was in the plan
on the music menu.
James Moody out of this world in epiphany realm
cocked his eye
to the beat alto
"Do you mind if I try it?"
& suggested
I'M IN THE MOOD FOR LOVE
in one take
Moody stroked his big Hit
a grand slam into the Jazz Canon
as Leonard Feather would later brand it:
Moody's "World Wide Mating Call."
MOODY'S MOOD FOR LOVE.

Also by Mark James Andrews
Books by Mark James Andrews