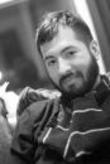 arrow_drop_down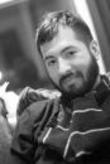 The Last Days of Los Angeles # 7
arrow_drop_down
More work by Luis Rivas:
Disclaimer: for the sake of securing hypothetical employment and hypothetical limited measured financial enjoyment I am going to say that the following is a work of non-fiction, yup. WHEN GEORGE W. BUSH SIGNED AND CONGRESS PASSED THE NO CHILD LEFT BEHIND ACT INTO EFFECT IN 2001, who would've thought that losers like me would be allowed to be around your kids, and receive a paycheck for it 11 years later? And worse still, that a commie like me would be imparting Marxist words of wisdom to your vulnerable child when the parents weren't looking?
Scary thought. But it happened.
I'm getting paid to tutor little kids in English and math, exclusively in poor working class and immigrant neighborhoods. The company, which I won't name here (a job's a job, right? Or in the immortal words of street poet laureates Bone Thugs-N-Harmony, "Gotta get dat money, mang"), could care less if we are actually tutoring the kids. All they care about is making sure we complete the total amount of hours that each kid needs so that the company can get their sweet, moist, chubby and senseless paycheck from the Los Angeles Unified School District.
The program, however good the intention was, is a monstrous bureaucratic nightmare, an unaccountable pyramid of just-doin'-my-job-just-submit-your-hours-and-move-on-to-the-next-student rhetoric. The irony is this: One of the greatest fallacies of the No Child Left Behind Act is its narrow-minded emphasis on grades and test scores, this ultra-meritocracy. And what do the school districts in conjunction with state and federal agencies do about it? They subsidize private tutor companies (and some non-profit ones, too) to make these allegedly failing students better students by testing them regularly, giving out assignments that require students to fill in the bubble to the right answer, forget critical thinking, A, B, C or D kid, pick one, fuck analysis, bubble one in with a No. 2 pencil and a half-awake mind. We are training not better students, but better test-takers.

...read more

(2/3)
A scary joke. Bush, his administration and the Bush-minded perpetuators' logic is that if test scores improve, so do the schools. Call me a crazy radical but test scores don't fully determine or correctly analyze a child's intelligence or level of education for that matter. Many tutoring companies have sprung up in the last decade, hiring people such as myself that are just desperate for work, know a few words in English, know how to read, write, do basic shit, aren't total fuck-ups. I took the job because at the beginning the pay-off sounded great: $15 per hour, part-time, I set my schedule, my rules, etc. Then I found out that it's an independent contractor status so although there are no taxes taken out of my checks, I am responsible for all tutoring materials. The company provides access to their website where we download forms. But tutors have to print them out using their own ink and paper and that shit gets expensive. Not to mention gas, pencils, etc.
What do I do? Quit? The luxury isn't there.
No. More correctly, as a Marxist we are always tasked with a more critical way of understanding and questioning. So let me rephrase that: As a Marxist, what can I do in this situation? Can I make the best of it, and in doing so impart some anticapitalist words of wisdom?
Yes.
This one student had a hard time with vocabulary words. I left him a list of words to study, define and write sentences for. The words were: rebellion, worker, class, revolution, exploitation. I gave him a few days and came back. We spoke on positive connotation versus negative connotation, how "rebellion," "worker," and "revolution" were words that had positive connotation. He successfully used most of them in accurate sentences. We spoke on how his parents, being recent immigrants fleeing a country from Neoliberalism and aggressive economic imperialism, had to sell their labor power to greedy capitalists who had no vested interest in him or his family, but only in the man-made profit.
The student's eyes would widen, careful and skeptical of all my words, and I would leave.
I'm still with the company. Unfortunately, a majority of these students are still experiencing failing grades and disillusionment in school. Their parents are worried, helpless, and helplessly trusting tutoring companies like mine.
For this, and only this, I apologize to all the kids I had to and will have to tutor. I shouldn't be a tutor. More qualified, deserving people should be tutors. I should be serving fries and selling T-shirts.

...read more

(3/3)
But what can I do? I need the job. The job needs desperate workers like me--as is the sweet tragedy of labor in a capitalist society.