arrow_drop_down
Refugees Who Had Their World Taken Away
arrow_drop_down
More work by Lyn Lifshin:
Refugees Who Had Their World Taken Away
LIFE IN ALEPPO
a day without bombs,
is good. You can 
leave your apart-
ment, wander thru
small oasis of color
and light. No words,
only the sense of 
loss. No color except 
for an plot of green
and one plum tree,
not turned to drift
wood. One man who
has not left, says you
must live on the lower
floors to try to escape
airstrikes, shells, rockets,
phosphorous bombs, 
cluster bombs. Dreams 
blend with nightmares,
ghosts rise from the ruins.
Stark white bones litter
the streets. No more 
dancing, no more violins.
No flamingos or pelicans.
Terror blooms under a
blue moon. When a small
bomb lands on top of 
a building, it often takes out
just the top 2 or 3 stories.
Lately Basha al-Assad and
the Russian military have
been using a new kind of
bomb that demolishes the
whole building. People 
stay out of any rooms near
the street. There's no electricity.
Families rarely leave the apart-
ment, prefer to die together

THE LAST GARDEN IN ALEPPO
this small oasis of color and life
as cluster bombs, barrel
bombs, missiles rain on houses,
hospitals, schools in this 
hazardous, unpredictable place,
a gardener was able to grow
flowers, vegetables, broad
leaved plants. Roses, gardenias,
bougainvillea. The gardener's
whole existence dedicated 
to the beauty of life, a small
courageous attempt to promote
peace. Dust and smoke blur 
the stars, the watered ferns and
lilies in the shadows. Shivering
thru the raids, dreaming of 
his dead wife until eventually a
barrel bomb lands near his
garden, kills him, his dream that
...read more

(2/16)
the "essence of the world is a
flower," the color, smell, how it
can inspire. But in the time 
since his death, Aleppo seems
mostly defined  by another 
floral attribute: fragility

THE CHILDREN
in Aleppo have to stay
off the streets or they'll
be killed. Their parents 
listen for sounds of war,
planes or shells, or cluster
bombs. "We try to live like
underground rodents," one
father says. There are some
underground schools but 
many parents find them 
too risky. Some families 
who live close to the school
let their children go if its 
not too long a walk, one man
opened a school called al 
Hikma which means wisdom

IN ALEPPO  
if you have a car
you'll have a hard 
time getting gas 
for it. If you're
hoping to keep it
from being blown 
up or damaged 
by shrapnel, you
might store it in
an empty garage or
shop. Open the 
windows too. Other 
wise the glass may
crack from the pressure
of bombs exploding

...read more

(3/16)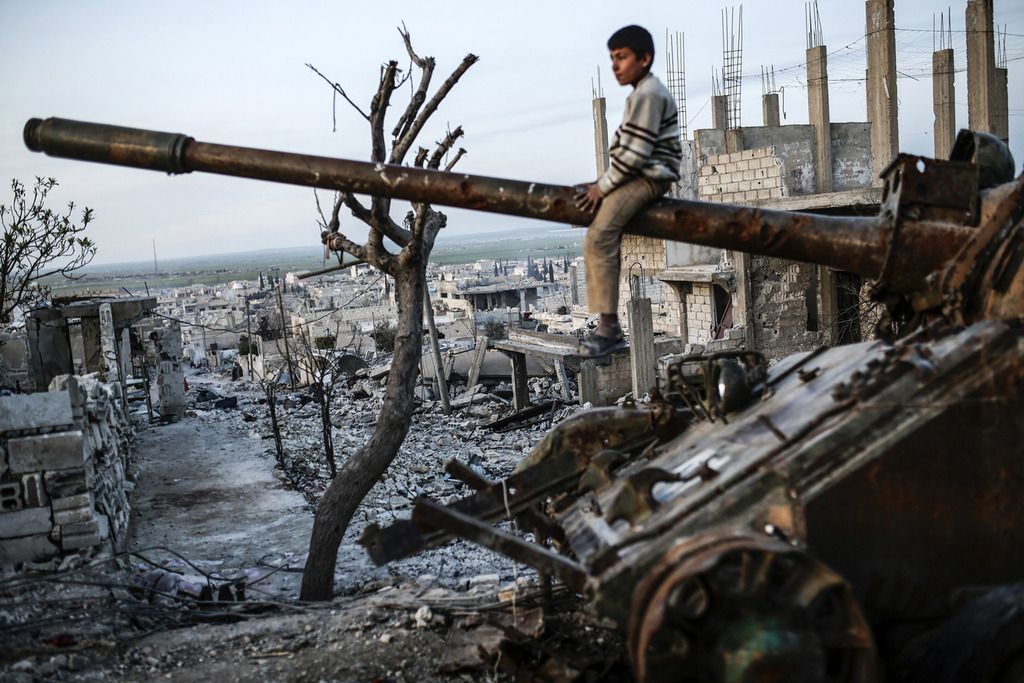 LISTENING FOR SCOUTING PLANES
they sound different from
fighter jets on bombing
runs. The scouts fly lower
and they make a constant 
buzzing sound. If you hear
them, you'll know that shells
will be falling soon, bringing
death  with them. If you go 
outside make sure you don't
end up in a group of more
than 20 people one man says
or you might attract a plane. 
Scouting  runs are especially
dangerous in summer when
there aren't any clouds to 
obscure pilots' vision. But 
they're also bad on clear 
days in winter. Going out at
night is especially risky because
you can't see planes coming over
head and you have to drive with
out headlights. One man said 
he suddenly felt pressure in 
his ears and the windows of his
car cracked. It was an air strike
less than 100 meters behind him, 
reminding him he was still alive

WHEN THE BOMBARDMENT IS AT ITS WORST
you start to worry you
might lose more of your
friends, call them to 
check in. If you see them,
when you say goodbye,
you tell them "take care 
of yourself. Maybe I 
won't see you
again"
...read more

(4/16)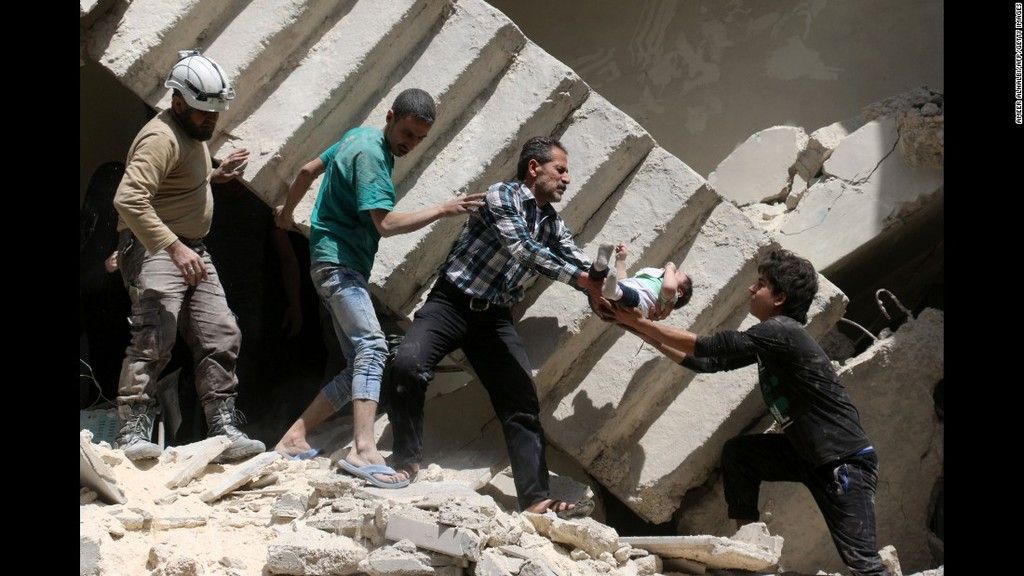 IT'S EASY TO LOSE YOUR MIND IN ALEPPO
you might go one day
to look for food and come
back to find your building
is destroyed and your 
family killed. People stand
in front of bombed out
buildings screaming and
crying in disbelief. More and
more people have lost 
their homes and now are 
living on the streets asking for
money. Before the war, they
never imagined they would
be beggars. Even people who 
still have their houses, struggle
to cope. One man killed him
self with a machine gun 
after another died. He shot
himself in the chest. Tho
more common in the west, in
Syria it is very rare. In Islam,
suicide is a terrible sin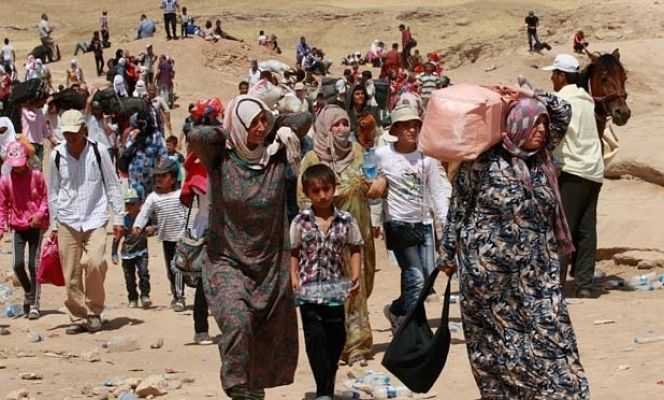 ALEPPO
if you are not killed,
your next worry is
food. Now many
don't have enough
money to buy any
thing to eat. There 
aren't any jobs so
every neighborhood 
has young volunteers
whose responsibility     
is to get food and
other supplies. Families
that still have a father
are lucky. His mission 
is to get food and 
other supplies
every day

...read more

(5/16)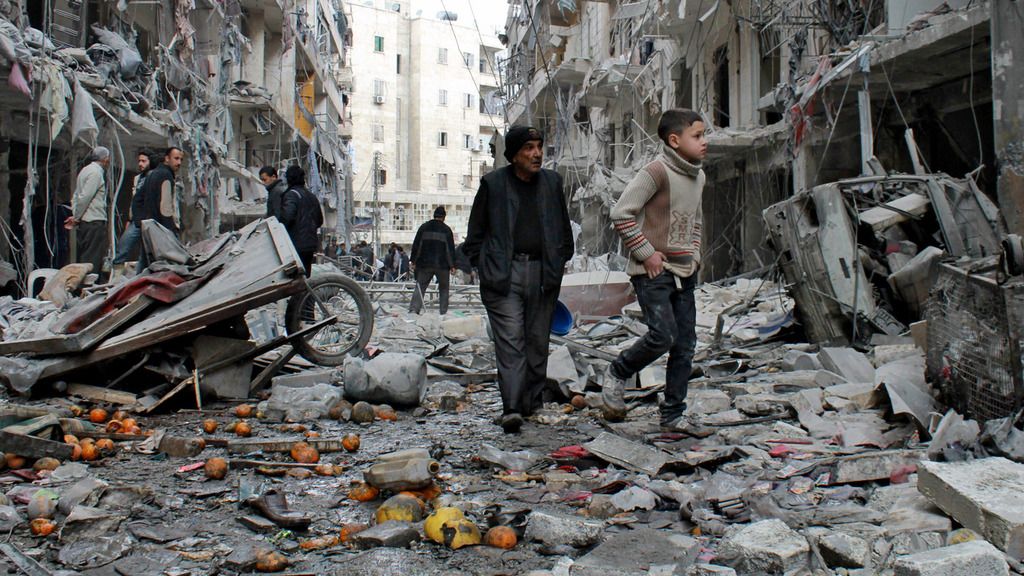 MAYBE YOU'LL TRY TO GROW VEGETABLES IN YOUR GARDEN
some grow eggplant,
parsley and mint. Many
gardens have become burial
grounds because there                  
isn't room anywhere else 
to bury dead bodies after
four years of war. But 
if the alternative is starving
to death, you might not mind
eating food that's been grown
among corpses

ONE MAN SAID PRAY YOU DON'T HAVE TO GO TO THE HOSPITAL
they're absolutely
miserable. I don't
know how the doctors
and nurses can stand 
all the blood, bones 
and bowels all over 
the floor. The smell is
awful. Patients who 
can't leave are constantly
 screaming in pain. This 
man says, "several 
weeks ago I was shot
in the hand by a sniper
and I have some broken
bones. So I go to the
hospital once a week to
change my bandages. 
I can't bear to be there
more than half an 
hour."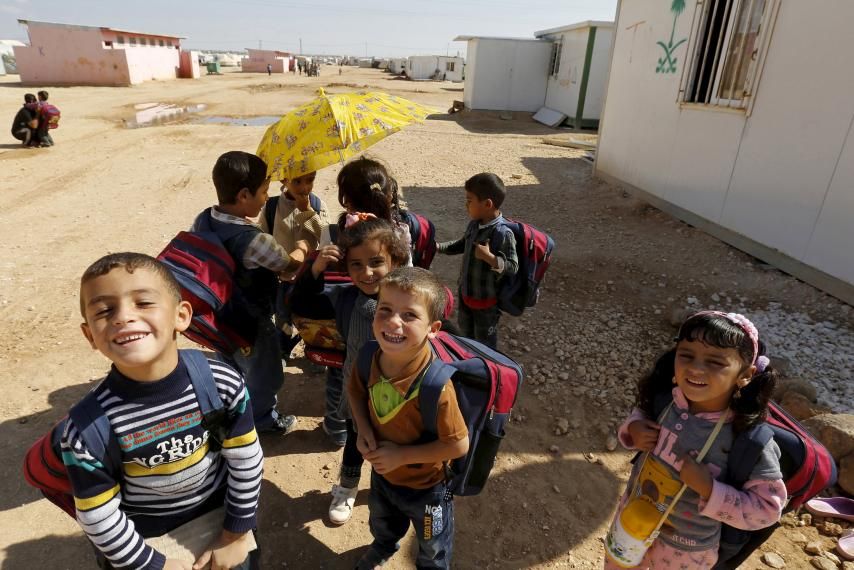 EVERGREEN, PEARS, TEREBINTH,  HAZELNUTS, ROSES, MAQUIS, ROSEMARY
in the last garden of Aleppo. For 
resistance, not remembrance.
The gardener, father of the flowers,
and his son. He thinks of the garden
as music. One flower was hit by 
shrapnel but it is still alive. Some 
buy plants and scatter them around
the city. Many leave freshly cut flowers
around the ruins. Then a bomb landed
...read more

(6/16)
near the garden and killed the gardener.
His son is lost. He doesn't know what
to do. The chameleons are dust. To live 
here is to live with grief. But in time 
he will remember how his father 
described the cycle of life. This one dies
but another grows. It is the beauty
from god

IF PEOPLE ONLY KNEW HOW BEAUTIFUL ALLEPO WAS
the most beautiful
buildings reduced
to rubble. The lost
houses, the lost
flowers. You get 
used to the bombs.
One man, 53, says
he's seen enough.
He doesn't want
to get to 60

ALEPPO, A WORLD HERITAGE SITE
the camera was the
worst enemy. One poet
whose whole family was 
killed sings to the pigeons.
My heart is broken, my
eyes can't sleep. Fly away
and reassure me. Tell me
about yourself. Don't 
forget the beautiful words

IN ALEPPO, A HAVEN OF BEAUTY
in the middle of
hell on earth. But
...read more

(7/16)
it was more than 
the jade abundance
and the brilliant 
colors that made it
an oasis of tranquility
and repose for those
who chose to stay
in Aleppo or can't
leave. Barley wind 
from Yarmook River.
Abu Ward, whose name
means "father of the 
flowers," fought to
preserve beauty in the 
rubble of what has 
been from the 
last remaining garden 
center in the once
bustling liberated area
of Aleppo. "My place 
is worth billions of 
dollars," he told 
a video journalist, "it
soothes like Mozart."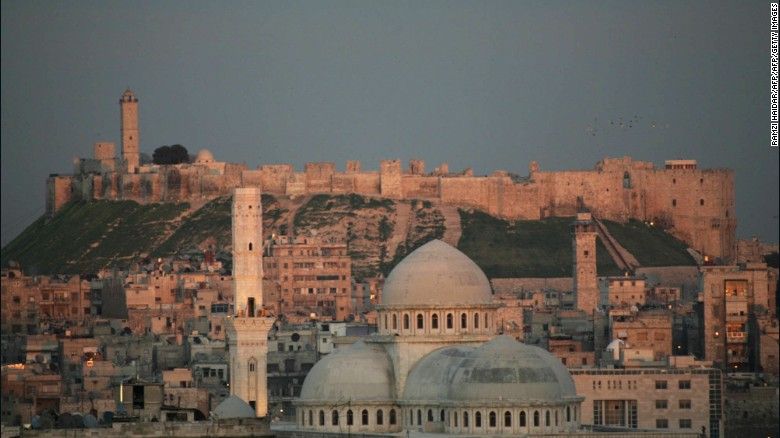 LATER AS THE GARDENER GENTLY TOUCHED A FEW GREEN  LEAVES  
growing out of
the top of an              
otherwise barren
stick of a tree. 
"This one was hit
by shrapnel but
it is alive. The tree
will live and we
will live." The 
essence of 
the world is
a flower

ABDULLAH, HELPING WITH THE FOOD SHORTAGE
runs a small garden
on a blasted out 
patch of ground
that was at one 
point attacked by a
bomb dropped by
a helicopter leaving
3 people dead. After
the bomb attacked
the patch of ground
he started planting 
tomatoes, peppers,
potatoes, Middle East
...read more

(8/16)
grain. He says his 250
square feet of produce
is his way of saying
he won't be brought
down by terror. "My
garden," he says, "is a
message to the Assad
regime and those who
support it. We will stay
in our city even if they
bomb it to smithereens,
we will resist no matter
how long their siege lasts"

SYRIAN BOY
cries for Dad
after losing
both legs in
a blast. "Pick
me up Daddy,"
he cries "pick 
me up, pick
me up"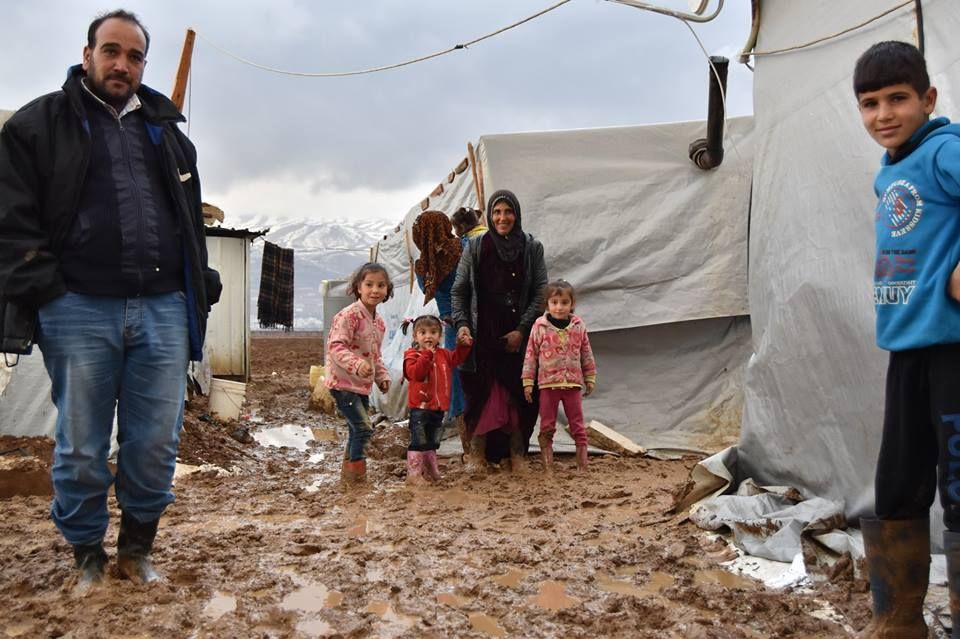 BEKAA VALLEY, LEBANON
ramshackle tents,
children playing
in garbage. Young
boys and girls, 
nephews, nieces,
huddled together
on the tent floor.
In the dry dust and 
wind of dead roses
the tents catch on
fire. Refugees from
Syria's civil war wait
for something to
change but nothing
does. No jobs, no 
hope. Flamingos in
rubble. Crying babies.
Men staring into space
most days. One stays
hungry when the 
man doesn't work

...read more

(9/16)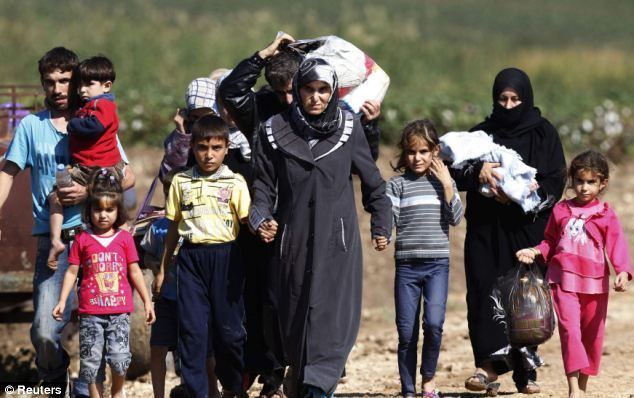 ONE FAMILY HAS BAD FEELINGS FOR THE NUMBER SEVEN
one man says his brother
was disappeared on the 7th 
of April. Another brother
on September 7th. A fellow
government employer was
taken, tortured and electrocuted,
his family got the corpse back 
on the 7th day of the 7th month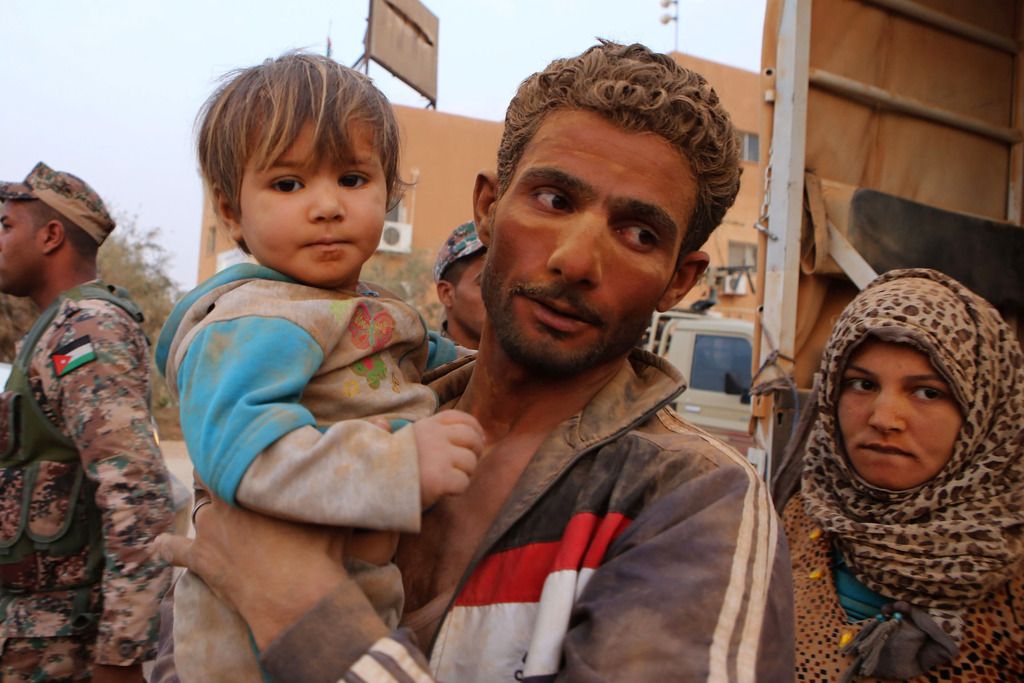 ISRAELIS HELP GERMAN AID WORK WITH SYRIAN REFUGEES
after taking the dangerous
journey from war torn Syria
to Berlin, refugees are  
surprised to be greeted by 
professionals from the Israeli
Trauma Coalition. One man 
says the long scar on his left 
cheek is not very heroic—it
was from barbed wire on the
Macedonia-Serbia border. 
He's 29 years old but the marks
of exhaustion on his face are
from someone much older. 
11 years ago he started working
for the Red Cross then protests
were banned. "Every Friday 
we'd go to the mosque and after
prayers we'd start rioting and
protesting. Hidden among the 
masses we could protest in 
relative security until Asad's
people starting planting  under-
cover agents in the rallies to
identify the protesters and
arrest them. Soon the noose 
tightened so they paid a smuggler 
who hid them in a car and took
them to Beirut, then he got 
to Greece, then Turkey where 
they left from Izmir on a small
boat with 40 other refugees. 
It was so small they weren't
allowed to sneeze because any
small movement could have
flipped the boat and cause every
...read more

(10/16)
one to drown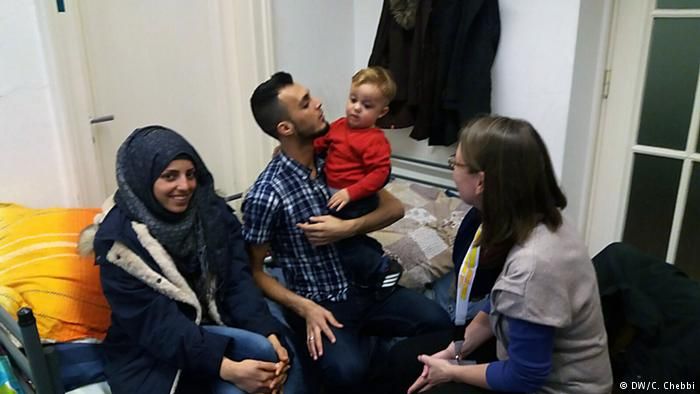 ONCE IN GERMANY
the refugees are
treated for trauma. 
Israelis know a lot
about trauma and 
how to treat it be-
cause of the terrorism
in their own country
and organizations
that treat Holocaust 
survivors. Politically
this is an interesting
experiment: Israelis 
are coming to aid
refugees from enemy
countries on German soil

SURREAL  
helping the trauma
victims among the 
Israeli professionals
is Vivian Reuflinger
in the settlement Oranit 
where Mohammed, a
Palestinian social worker
who moved from Qalgilya
to Berlin 4 years ago and
is now helping refugees.
In the past, Vivian and
Mohammed were on
opposite sides of the 
conflict and hadn't come in
contact with each other. 
Now, she's instructing one
how to help Syrian refugees 
deal with the ache of war.
"I have nothing against the
Israelis, I accept all people,"
he says during a coffee break
as a way for two people on
two different sides of a
conflict, to say " hello" when
they meet far from the conflict
zone"

...read more

(11/16)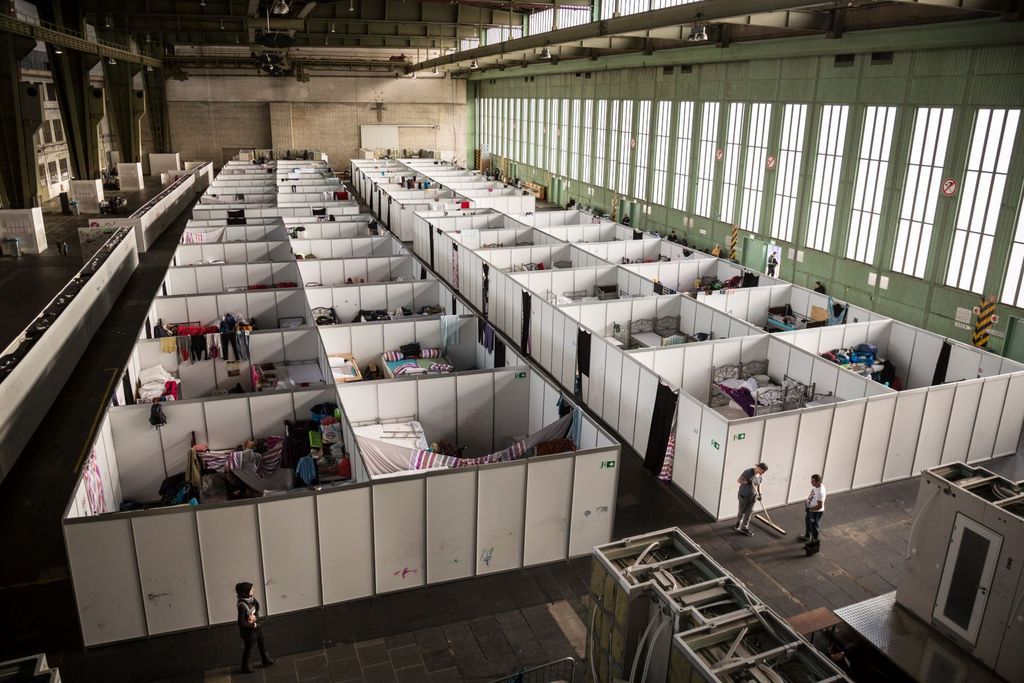 IN THE TRAUMA CENTER POLITICS IS SWEPT ASIDE
dozens of children raised
in the belief that Israel is
as bad as Satan are receiving
life saving treatments at Ziv
Medical Center in Safed after
escaping the pain and suffering
of civil war in Syria. "I was 
afraid of the Jews, but now I'm
not afraid at all," says a ten 
year old boy whose hands were
saved by Israeli doctors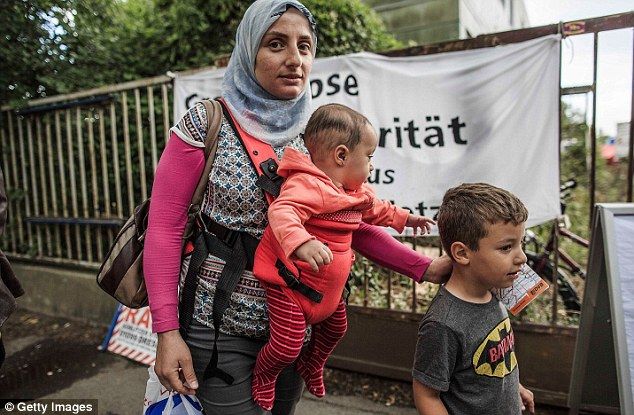 THE REFUGEES FROM SYRIA
have been thru three
life shattering experiences.
the war, the journey which
is often horrendous and
immigration which is
considered one of the most
difficult experiences
of a person's life


IN THE REFUGEE CENTER
the food is halal,
adhere to Islam's
dietary laws. But 
many of the refugees
have grown tired of 
Islam, with some
often seeing it as one
of the reasons for
their situation. Many 
even let their children
eat local gummy bears
even tho they contain
gelatin produced from
pig's meat. "God," they
believe, "is looking the
other way"
...read more

(12/16)

THE REFUGEE HILTON
there are signs in
English and Arabic
all over the building.
Small windows are
decorated with small
German flags, leaving
no doubt as to what 
country the refugees
want to live in. Jugs 
with drinking water
are everywhere while
large rats run around
the trash cans outside
enjoying the piles of
left over food

ONE OF THE BUILDING'S FLOORS IN A REFUGEE CENTER
has a room strictly
for women designed
by female refugees
using donated fabrics.
In large bags they can
find knitting needles
and balls of wool. On 
the table are bottles
of nail polish to give
the women some link
to their old lives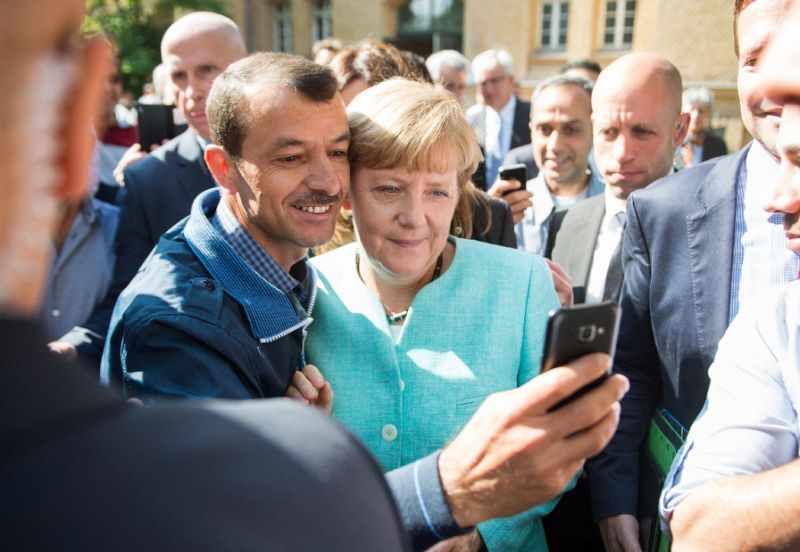 AT THE GERMAN REFUGEE CENTER
the Israeli therapist
finds the exercises
awaken many demons.
No one knows in weeks
she will go back to Israel
to work with Holocaust
survivors. "Coming in
contact with the German
street, the accent and
the buildings is not easy
for me," one woman 
would say later. "Berlin
is not my favorite tourist
destination. But working
in the center is like being
in a  bubble encompassing
past, present and future.
Here I can do what was 
not done for my family
and my patients—perhaps
minimize the trauma, 
silence and pain that are
passed down with the
...read more

(13/16)
generations

THERE ARE MANY CULTURAL GAPS BETWEEN THE REFUGEES AND THE AUTHORITIES
the refugees are frustrated by
the fact that the Germans don't
understand what they went thru
and their response is not always
the right one. The Germans 
misinterpret the refugees' action.
They think if they are yelling, then
they are displaying violence or
aggression but this is pain. A therapist
says "we who came from the Middle
East understand this emotionality better 
than the Europeans. Our work is   
that of Tikkum Olam (the Jewish concept
of repairing the world) a way of coming full 
circle nights the refugees huddle under flannel,
listen to night birds unlike any they've 
heard in cities they hate to see torn
to rubble in streets they don't expect to
see again or listen in their old beds
to the sound of mulberries thru 
where once those leaves
were a magical, mysterious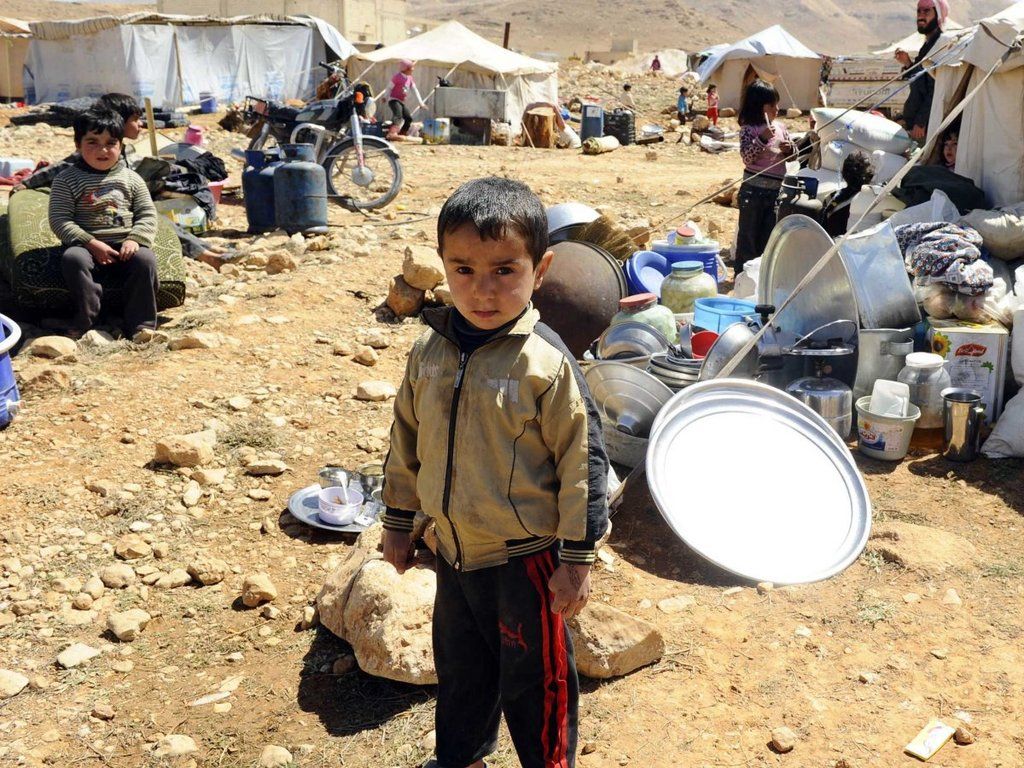 WE DON'T SEE POLITICS
we meet people all over
the globe whose world
was taken away from them.
Everywhere similar stories
of sorrow and pain. Every
where young women 
weep for those sunny 
afternoons sipping dark 
coffee under the shade of
Terebinth branches.
In all these places, therapists
committed to dealing
with crisis.  They leave politics
out of it. Some say it is
the Israelis who understand 
pain well. Here there 
are no "us" and "them"
only what we do together
...read more

(14/16)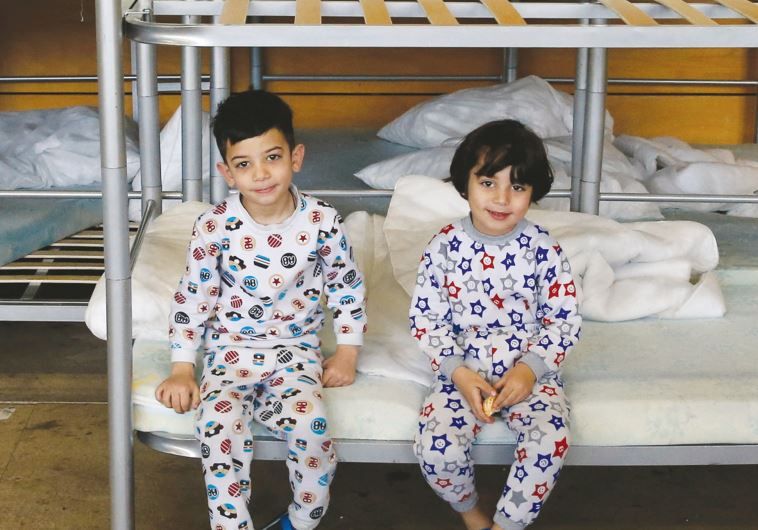 THERE IS A CLOSENESS
You understand the area
and the history one
woman says. This is
a sort of tikkun because
we're doing something good
for them. There are people
who have never seen Israelis
so we're doing a kind of PR. 
In their wildest dreams they
didn't think they'd be sitting
next to an Israeli."

SYRIA TV ALWAYS SHOWS THE ISRAELIS STEALING LAND
murdering Palestinians, poisoning
the water. One man says, "but when
I meet Israelis here I see they are
humans. There are many countries
that choose to remain silent seeing
the horrors in Syria. Israelis not only
help the wounded in Syria but they 
also help us here." "Perhaps," a young
man who fled Damascus says, "the 
world is not such a rotten place."

SYRIAN REFUGEES IN CANADA'S NORTH
it's not warm in weather, 
but in emotions. In communities
such as Yellow Knife the 
temperature can sink to -40, a
dramatic change for refugees 
who had never experienced
anything like it. 
After a rocket hit his sister's 
house and killed his brother 
and nephew, Mustafa knew
he had to leave Syria. He says,
"I was not expecting to end up
...read more

(15/16)
in the kind of place where snow
blankets the ground for months 
at a time and temperatures drop
to -40. As refugees from Lebanon, 
the family took courses to prepare
for the move to Canada. They were
warned it would be cold but just    
how cold would depend on where
they ended up. When they arrived
in Yellow Knife that was a surprise.
Within hours, Mustafa, his wife and
four children were taken on a 
shopping expedition to stock up
on winter gear. The trip was the final
detail in the carefully planned operation
to bring the family to Yellow Knife 
as privately sponsored refugees. They
arrive in Canada, stopping in Montreal. 
"Don't go to White Horse," they were 
warned. Not many people and it's freezing."
Soon after getting there however the family
realized there was little truth to what 
they had been told. "People were so good
to us. Yes, the cold is really cold. Luckily
even the cars have heat." They saw Northern
lights for the first time and were thrilled.
"Here it's not warm in weather but 
warm in emotion and feelings."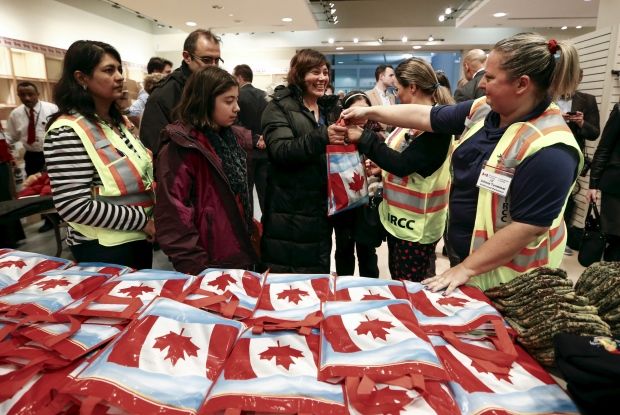 SYRIAN REFUGEE GIVES BIRTH IN CANADA 
secretly entering labor en route
Ibtesam Alkarnake had already
started the hard 24 hour journey
from a temporary home in Jordan 
to asylum in Canada when her water
broke. Nearly six years after they 
fled the war in Syria, safety seemed 
finally in reach as the family made 
their way to northern Alberta to 
begin new lives as privately sponsored
refugees. Dreams of  dates and barley,
roses in the dust of bombs, plum
wind from the Yarmouk River still in
her dreams, Alkarnake said nothing,
enduring hours of discomfort in silence
as they made stopovers in Frankfurt
...read more

(16/16)
and Calgary. When the family landed 
in Fort McMurry she posed for pictures,
trading hugs and smiling at the dozens 
who showed up at the airport to greet
the city's newest residents. Only when
the family was she taken to their new
home did she reveal to one of the 
sponsors, she was about to give birth
and just hours later her son Eyad was 
born at a local hospital, a month early, 
making, for the whole town, a memory
magical as the print a leaf makes 
in amber or stone