arrow_drop_down

Attack at the Yack 2
arrow_drop_down
More work by Josh Olsen:
ECW chants erupted from a small gathering of fans outside the Benjamin F. Yack Arena, in Wyandotte, Michigan. Sabu and Shane Douglas were both scheduled to appear in XICW's Attack at the Yack 2, so I got my hopes up, thinking that one or both of those former ECW (Extreme Championship Wrestling) champions were making an early parking lot cameo, but it was just because a fan was wearing an ECW t-shirt.
While waiting for the first match to begin, but after the comic con/fanfest portion of the day concluded, I found a seat in the general admission bleachers that overlooked the center of the ring, and while the bleachers never completely filled up, it wasn't long before I was flanked on both sides by other eager fans. To my right was a married couple who were regular XICW (Xtreme Intense Championship Wrestling) attendees. The wife was a diehard fan, a true believer, who knew the first names of the ring crew and waved hello to other regulars in attendance, but was completely oblivious to any other pro wrestling, whatsoever. I found it admirable that this woman was so utterly devoted to her local pro wrestling organization, but couldn't care less about the WWE (World Wrestling Entertainment). Her husband, however, was at least somewhat familiar with other pro wrestling promotions, based upon his references to Jinder Mahal and Jack Swagger, but he said he pretty much exclusively just followed XICW now, or at least he did so for his wife, who was the real fan of the pair.
...read more

(2/7)
To my left, and on the opposite end of the pro wrestling fandom spectrum, was a belt guy. You know, one of those guys who walks around wrestling events with a replica belt over his shoulder. If I had come with a friend, or my son, as I usually did, I probably would've just talked to whoever I'd come with, and completely ignored the belt guy, but I was there alone, and belt guy was there alone, and so it wasn't long before we began to talk … about his belt, of course. I'll admit it, I don't know much about pro wrestling belts, it's just not something I've ever paid much attention to, but it was entertaining, listening to this guy lovingly dote over his belt and talk shit about the other belt guys and gals who walked by. As of that day, he'd amassed a modest, but no less impressive, collection of A-list signatures upon his belt: Edge, Chris Jericho, Batista, Big Show, Daniel Bryan. Most of the autographs he acquired while attending AutoRama, "America's Premiere Custom Car Series," which made an annual stop in Detroit and always had at least one WWE superstar in attendance. But thanks to Attack at the Yack 2, belt guy had a few new signatures on his "big gold belt": Ron Simmons, Sabu, and Shane Douglas.                 
...read more

(3/7)
There was no doubt about it, I had come way earlier than I needed, but I wasn't sure how much time I'd need to make my way around the comic con/fanfest portion of the event. As it turns out, I had about three extra hours between when I finished up with the comic con, and when the first match of the night began, and so I burned some daylight walking around downtown Wyandotte, eating a sandwich in a Jimmy John's that was pouring water from the ceiling, downing a few cheap lukewarm beers from the concession stand, making conversation with my fellow wrestling fans, people watching, and taking occasional notes. Being that the event was promoted as a comic con/fanfest during the day, and then a wrestling show at night, there were a select few individuals who were clearly more interested in the comic con portion of the day, and so, there were two Jedis in attendance, lightsabers in hand, walking around among the attendees in wrestling shirts. There was a vendor who was dressed as a convincing Undertaker, minus the prescription glasses, as well some dude who wore a generic luchador mask and cape. But for the most part, the folks in Yack Arena were dressed in casual street clothes, with a significant percentage in basketball shorts and assorted wrestling t-shirts. I've always been hesitant to wear wrestling shirts to wrestling events, not unlike how I never wear band shirts to concerts. I just can't handle the pressure and judgement. But this day was an exception. I was wearing my New Japan Pro Wrestling "Lion Mark" baseball tee, simply because it was the best fitting t-shirt I owned. As far as I saw, I was one of two people wearing an NJPW shirt, with the other being a colorful Jushin Thunder Liger t-shirt. And of course, there was no shortage of the ubiquitous Bullet Club tee, which is now sold at all Hot Topic locations, when they're not sold out, but there was an ample amount of Insane Clown Posse and juggalo-affiliated shirts and memorabilia to help balance it all out.  
...read more

(4/7)
Shortly before the first match, a last minute "dark match" addition, crowd activity began to pick up, and I noticed a familiar face mingling with the fans. It was a larger than average white man with a trim goatee and shaved head. He was wearing a sleeveless denim shirt, and light wash dad jeans. He made his way through the crowd, shaking hands and posing for pictures while he sipped a beer, until he stopped right in front of me. We made eye contact, and I suddenly recognized him as "The Franchise" Shane Douglas. I played it cool and gave him a nod of recognition and raised my beer to him, and he did so back in return. Throughout the night, I saw Shane holding court with fans and talent alike, and he looked to be having a good old time. During the first match, while Journey's "Don't Stop Believing," and then "Wheels in the Sky," played over the venue's PA system, Shane could be seen in the corner of the fanfest area, play fighting with Sabu, and later, as his match drew closer, Shane grew rowdier, and playfully tossed around empty folding chairs, like he would have done back in his ECW glory days.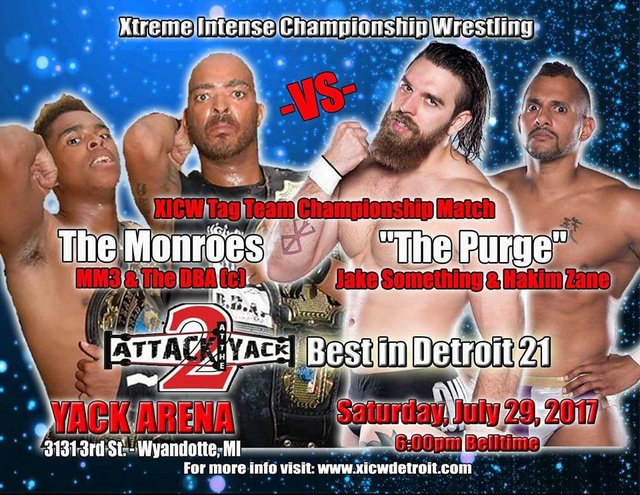 ...read more

(5/7)
Overall, the card was entertaining, start to finish, with standout moments including what could be referred to as a "cupcake spot," in which "The Genetic Jackpot" Joe Coleman received a cupcake to the face while XICW Lightweight Champion Johnny Devine held him in a post-match camel clutch, and I was thoroughly delighted to watch as ring veteran The DBA, or The Detroit Bad Ass, also known as the owner/promoter of XICW, soaked his elbow pad in lighter fluid, set it on fire, and then dropped a top rope flaming elbow onto his supine opponent. And I might not be a regular XICW attendee, to the extent of the married couple I made conversation with throughout the length of the evening, but I had previously come on more than one occasion, and was happy to see area favorites like "Sweet" Willy Watts, who I briefly met during intermission and congratulated after his successful tag team match, and Jake Something, who held the tag team titles with Hakim Zane (known collectively as "The Purge"), but lost a six man, loser leaves XICW match to the formerly mentioned DBA, MM3 (DBA's son), and Jaimy Coxxx. Over the years, I'd seen Jake Something wrestle on several Metro Detroit cards, including a dark match for Ring of Honor, and based upon the loser leaves XICW stipulation, I assumed that Jake and his tag team partner Hakim Zane were on to greener pastures, but maybe they'd come back next week under masks, I joked to my new friends. There was also a good old fashioned no disqualification match featuring the "homicidal, suicidal, genocidal" Sabu, and former WWE fan favorite D-Lo Brown. Sabu and D-Lo's match was completely void of any sort of technical skill, but it was one hell of a barn burner, considering the age of the combatants, and featured a barrage of chair shots, including a match ending chair-aided diving leg drop from Sabu, which D-Lo sold in an Oscar caliber performance that had me thinking that he honestly might have been concussed.
...read more

(6/7)
And then there was the main event, featuring Mahabali Shera, who was taking a short break from Impact/Global Force Wrestling, and the returning XICW Xtreme Intense Champion, Shane Douglas. Shera was greeted with a smattering of unenthusiastic Jinder Mahal chants, which thankfully didn't catch on, but the crowd was pumped for Shane Douglas. But wait a second, I thought to myself, that's not Shane Douglas! Shane Douglas was still hovering around behind the curtain somewhere. I didn't know who this blonde, clean shaven man with the XICW Xtreme Intense belt thought he was. And then I came to the realization that the man I'd mistaken for Shane Douglas wasn't actually Shane Douglas, and I felt like a complete idiot. All night long, I'd been amused by how cordial and playful Shane Douglas had been with his fans and fellow wrestlers, but as it turns out, that wasn't Shane Douglas, at all. The man who I misidentified as Shane Douglas did eventually become involved in the match, and was introduced as Rough House Rob, but after I came to terms with my mistake, I pretty much lost interest in the match, and I was simply counting down the minutes until I could make my exit, and begin my drive home. 
After the bell rang, and Shane Douglas successfully retained his XICW Xtreme Intense Championship, with the help of "not Shane Douglas," I didn't stick around for any post-match announcements or shenanigans. It had been a long day, a solid eight hours, at least, and I was more than ready to go home. Belt guy disappeared long before the main event, but I said goodbye to the married couple that befriended and educated me on all things XICW. I promised them I'd attend a regular, weekly show, and not just these bigger, special events, and told them that if I didn't see them before then, I'd look out for them in October, when XICW makes its return to historic Cobo Hall. Insane Clown Posse is scheduled to appear, along with Jim Cornette and Bobby "The Brain" Heenan. I wouldn't miss it for the world.
...read more

(7/7)
Around the time of this writing, it was announced that the WWE would make their debut appearance in Detroit's brand-spanking-new Little Caesar's Arena this coming October, the night after XICW's show in Cobo Hall. I'd heard rumors of WWE's pending event months ahead of the big announcement, and I'll admit that when I first saw the official advertisement, and learned that the event in question would be none other than Hell in a Cell, a first for the city of Detroit, I couldn't wait to order my tickets. But the more that I thought about it, the more my excitement waned. Not unlike a growing number of pro wrestling fans, I think much more now about where my money goes when I buy tickets for a wrestling event, and as much as I thought I'd like to attend WWE's Little Caesar's Arena debut, I have difficulty rationalizing dropping that kind of money into the McMahon family trust, when instead it could go directly to local talent, and the XICW. I imagine that a number of Metro Detroit pro wrestling fans will have to make the difficult decision of choosing one event over the other, either XICW or WWE, and that more than a few will choose the big-league spectacle and pyrotechnics of WWE. But the WWE doesn't need my help generating revenue, and so if I must pick one over the other, I'd rather support the legacy of Detroit professional wrestling, and do what little I can to help the XICW drop a flaming elbow on their competition.