If you are sensitive
and still alive
than you are a tough piece of meat,
weathered and unchewable.

You are a solo bull
with blue balls
that hang like sacked melons
in the winter never shrinking
no matter how many fucks
you manage to stumble upon.

There are a few specks of blood
on your horn tips
from when they pushed you too far
into their shallow waters.

Your animosity toward society
turns to sadness
but you keep kicking hoofs at the sun,
spitting bottle corks and
lighting cigars with your kindling eyes
and when the comet finally scorches Earth
you'll be the only one
laughing.
0 Likes
|
0 Comments
|
Author
The Last Days of Los Angeles # 8:
I ONCE HAD A FRIEND NAMED NOAH. He killed himself years ago. We were drinking and drug buddies. He was more into grunge and classic rock and I was into punk but our common ground was getting shitfaced on whatever we could get our hands on, which...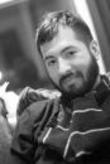 The Last Days of Los Angeles # 8
by Luis Rivas