this is
obsession

a man on fire
in the memory of
a house

poems
rising like smoke

and what is prayer
but the
need for words?

and what are words
but emptiness
temporarily avoided?

even now
soldiers are digging
into the bellies of
women who hold
these beliefs

even now
steam rises from
unborn children

and who's god will
the smallest bones
be hung from?
0 Likes
|
0 Comments
|
Author
Serious Fucking Mileage:
A FEW DAYS before Christmas 2012, a man I'd never heard of sent me an e-mail telling me he enjoyed my YouTubes and my writing. He also sent me $500 via PayPal and told me he didn't want anything from me. He just wanted to encourage me and reward me...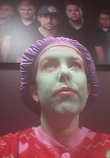 Serious Fucking Mileage
by Misti Rainwater